Arborescent and polymorphous, deriving from the techniques of drawing and painting, the work of Anne-Lise Coste spreads out on walls and in the pages of notebooks, in sculptures and in art installations. Using her body as a measure for scale, the outlines of the imprint and the sediments of motion are revealed.
Not so much watchwords as words to be watched, many of her artworks, among which those published by URDLA, urge us to rethink our relationship to the world. Her work draws on calligraphy and graffiti, tinged with the bold colours of Joan Miró, dispelling the boundaries between word and image. Broken-up words become visual phonemes, sounds and images elude meaning.
Anne-Lise Coste combines the spontaneousness and the vitality of spray painting with the multiple iterations of lithographic prints. She partakes of a popular form of political subversion, that of street art and visual activism. 
As early as the 16th century, during the uprising known as the German Peasants' War, the circulation of prints helped bolster aspirations to rebellion and emancipation. Blending the modernity of spray-paint art and the traditional craft of lithography, Anne-Lise Coste reminds us this timeless form of subversion is still very much topical. Her strokes, the tracing of words meant to be read, follow on the long history of master printers.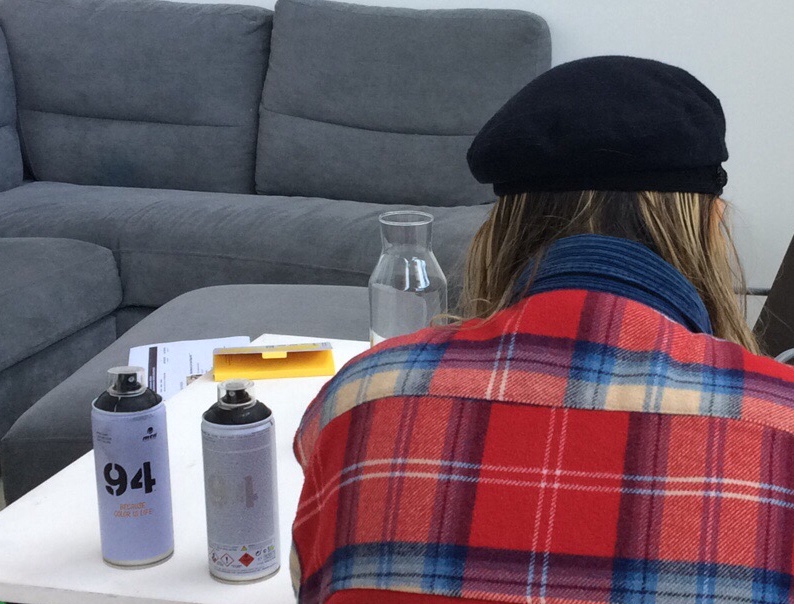 Spontaneity accounts for the strong sense of immediacy that runs through her work. She throws herself dizzily into the act of creation, letting its manifestation and the sense of sight exhaust each other with a searing intensity.
Anne-Lise Coste sees herself as an echo chamber. Riffled-through pages from a book, a poetic manifesto « for both the heavens and the hearts of dogs », her lithographs ooze with urgency: engraved in stone and printed, it calls for meditation. An incantation or a mantra, silently raged against invisible barriers, the artist's gesture seeks to break free.
Lithography's high speed and excellent image-quality retention lend themselves to the replication of gestures in an infinite variety of traces. Through associations and repetitions, juxtapositions and superimpositions, words, colours and forms become polysemous. Anne-Lise Coste's semiotics lay bare the porosity of a poeticised world on a world of grievances. "We Shall Dance" presents visitors with a silent polyphony in which the inner monologue dares become a political slogan: an attempt to voice a sounding "WE".
20. III. > 16. VII. 21
Anne-Lise Coste
Traduction : David-Emmanuel Bereyziat
Commentaires
samedi 22 mai de 15 h à 16 h
(sur réservation)